Recent Developments in Order Fulfillment Methods & Technologies Have Renewed Interest in DC Automation
The Acquisition of Kiva Systems by Amazon.com Is Causing Many Retailers to Take a Closer Look at Their Order Picking Operation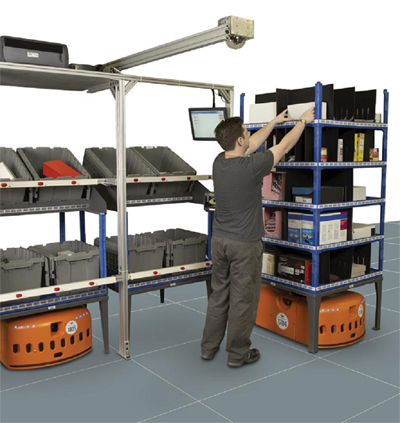 April 11, 2012
By Cliff Holste
A few weeks ago the big news was Amazon's purchase of Kiva Systems – see "In Astounding Move, Amazon.com Buys Robotic Material Handling Provider Kiva". This move on the part of Amazom.com continues to have a ripple effect throughout the logistics industry.
One of the most immediate and positive effects of this surprising acquisition has been to shine a laser beam of light focused directly on how order fulfillment is accomplished in distribution centers throughout the industry. Why? Because the adoption of new methods and technologies by a major player is always an attention getter, and because when it comes to improving order picking, packing, and shipping strategies, most companies are not sure what solution(s) are the best for their operations.
For many logistics managers the question is – what's so unique about the Kiva system that caused Amazon to buy the entire company. Understandable, many are now wondering if a "Kiva type" solution, or perhaps some aspects of it, may be right for their order fulfillment operations. It's a very good and appropriate question to ponder.
Because picking orders is the most labor intensive and expensive part of the order fulfillment process, it is appropriate that thoughtful consideration be given to choosing a picking strategy before deciding on the type of equipment and system design. It's not a matter of what has the most bells and whistles.
The evaluation of alternative picking strategies demands a thorough business and operations analysis. The right solution may be the one providing the most flexibility, adaptability, and scalability. While these are desirable features for all companies, for some they may come at an unacceptable ROI.